I would imagine that there's a high percentage of us who have had the thought, (while traveling on I-15 near Fillmore and having read the direction sign to Great Basin National Park)  "I need to go there some day".   I'm sure I've had that thought no less than two dozen times.
The last time this idea came to mind was on our way home from the "Ride the Gap" in Parowan Utah.  My wife and I had hiked Kanarraville Falls (for the first time) the day before the race. The majority of our conversation on the drive home was centered around getting our kids and grandkids down to hike the falls. When I saw the sign to the Great Basin National Park, it hit me: we could combine the two!  I could hardly wait to get home to start planning the next family adventure.
Soon a date was agreed upon and the plans came together.
Day 1 – Kanarraville Falls
A three and a half hour drive from Orem to the parking lot at the trailhead to Kanarraville Falls, a quick lunch at picnic tables and we were off.  Four hours later, we were back at the cars having had TONS of fun!
We experienced some of nature's sheer beauty, natural rock waterslides, narrow canyons, rock scrambling, climbed two ladders adjacent to waterfalls and hiked almost two miles in refreshing, shin-deep water.  Seeing the constant smiles and hearing the boisterous laughter, confirmed our previous thoughts that this would be even more fun with family.  In fact, it was hard to hold to the younger kids back; they led most of the way and were the first ones to jump on to the slides and ladders.  There was not one moment of complaint; never heard anyone even hint at being tired.
(To get to Kanarraville from Cedar City or any point north, take I-15 to exit 51. Turn left to the old Highway 91 and straight into town. To get to the trailhead, turn east on 100 North for four blocks. The road will be blocked and a parking area will be on your left.  There is a $10. parking fee.  Hint: be sure to wear quick dry clothing as you are in and out of water the majority of the time.)
From there, it was about a 35 minute drive to our hotel, Mountain View Lodge in Parowan, Utah, the same place we stayed for the bike race a month previous.  We all had worked up quite an appetite and were looking forward to great Chinese food at the Mountain Bistro restaurant inside the hotel. We had also eaten here on our last stay.  Again, it was as good as the first time.  I can see us stopping here just to eat while en route to other destinations.
Mountain View Lodge is a great base for experiencing the summer activities at Brian Head Resort or exploring the trails at Cedar Breaks National Monument.

Day 2 – Great Basin National Park
We loaded up the vehicles and made our way to Lehman Caves inside Great Basin National Park in Eastern Nevada.  It was only a two hour and 45 minute drive.  If you're coming from Utah, you gain an hour as you enter Nevada's Pacific time zone.  Again, a fast picnic lunch; this time on the lawn of the Cave's visitors' center. Lehman Cave's entrance (unlike Timpanogos Cave) is just a few steps outside the back door of the visitors center.  Our guide was both informative and humorous and the cave alone is worth the drive.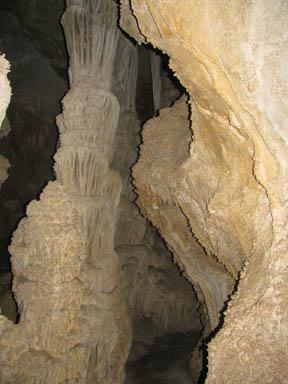 Ancient Bristlecone Pine – Wheeler Peak Grove
After the cave tour, we drove to 10,000′ altitude on Wheeler Mountain and parked at the trailhead leading to the 13,000′ summit.  Something a lot less challenging was more our style for this trip. Instead, we took the Bristlecone Pine trail where we saw living trees over 3300 years old. We couldn't help wishing these ancient trees could talk, the stories they could tell.  This trail is well marked with informative signage and is an out-and-back hike. On the way back from the Ancient Bristlecone Pine Grove, we were able to take a side path to the Alpine Lakes trail.
At beautiful Teresa Lake, everyone enjoyed testing their skill at rock-skipping.  It was cool and nice at right about the tree line!   At the elevation of 10,000 feet on Wheeler Mountain, there's a campground; talk about the perfect spot to beat the heat!
After getting checked into our motel, Border Inn in Baker, Nevada and eating dinner at the on-site cafe, we headed back to the National Park for a ranger-lead night sky program.  They had 3 large telescopes set up and invited everyone to see four different views through the scopes.  We saw very distant bodies; including Saturn and brand new stars as well as the remaining light from stars that had died out long ago.  I enjoy looking at a sky full of stars on a clear night,  however this took that interest to a whole new level.  In fact, this may have been the highlight of the trip for me. The night sky programs are held on Tuesdays, Thursdays & Saturdays starting at 8:30 pm.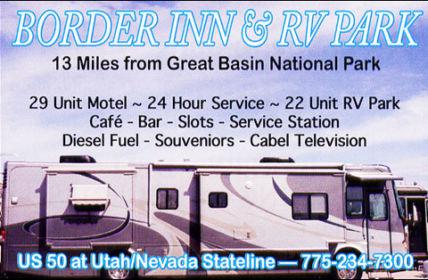 Day 3
On this three hour drive home, I was reminded of the other activities to do in the area. Just over the border back in Utah's Millard County, is a rock hounders paradise. Topaz Mountain brings rock enthusiasts from all around the country. Utah's historic Territorial Statehouse is located in Fillmore. ATV riders have hundreds of miles of trails to explore. A popular ride starts in the Tooele area and makes a large loop into Baker, Nevada and back.
This is definitely an area I'd like to return to for more exploration and finding brand new adventures!